How CFOs and CPOs can align with CEO priorities in 2023
Succeed in 2023 by aligning your goals, not just setting them.
To get ahead of the game in 2023, you have to set clear priorities. If you're leading a finance or procurement function, you're in charge, but you're not in charge. Instead, it's your CEO or board who sets the strategic direction and resulting priorities.
Yet a CEO's priorities might not always align with how chief financial officers or chief procurement officers set their goals. In fact, there can often be a disconnect. So a good place to start when setting 2023 priorities is first aligning with where your business wants to go. Which is easier said than done, since the economic picture for this year is, at best, foggy.
But when you look at the available data assessing top CEO focuses for year, the consensus for them is clear. There's rough sailing ahead, but not all ships expect to sink. And navigating out of the storm will require a steady hand from those who steer costs and supply chains for the business.
Top CEO Priorities for 2023
Given how rough the last few years have been, you'd think CEOs would be battered. Turns out they're an optimistic lot. Despite headwinds from inflation, geopolitical tensions simmering, and multiple companies racing to release chatbots casually capable of creating new killer viruses, CEOs are charting a course for the future.
When you look across all of the major annual surveys, the consensus CEO priorities for 2023 are:
Retaining and attracting talent
Investing for future business growth
Accelerating digital transformation
Building resilience for key enterprise risks
Mitigating climate (regulatory) risk
All of the major consultancies and research outlets express these priorities in different ways, but they all roll up to these. What's interesting, in my view, is that CEOs aren't planning as if the sky were falling. Instead, they're trying to reorient their businesses for where they think the next challenges will lie. CEOs are not reacting to the current environment but instead try to get ahead of whatever crazy thing might happen next. The Conference Board's wide-ranging annual CEO survey captures this nicely:
For CFOs and CPOs, the takeaway is this: if you're not focused on talent (especially employee experience), enabling growth (including new business directions), and driving profitability (probably through automation), you're doing it wrong.
Talent: 2023's Burning Platform
As we've limped through this volatile decade, each year (from a business perspective) has taken on a headline theme. It has looked a little something like this:
2020: emergency pivots to survive
2021: supply shortages/availability
2022: inflation
This year the theme will be talent. Specifically, the angst is about retaining staff, attracting new talent with desired skills, and managing additional change or restructuring initiatives with workers, many of whom are, frankly, on the edge of burnout from handling the last three years.
Gartner's 2023 Executive Pulse report illustrates how dire the situation is. Not only are employees struggling to keep going, but one of the top challenge businesses are facing is that employees are fatigued from all of the change they've already done. Case in point, the top 2 Gartner pain points for marketing/communications leaders are around this issue: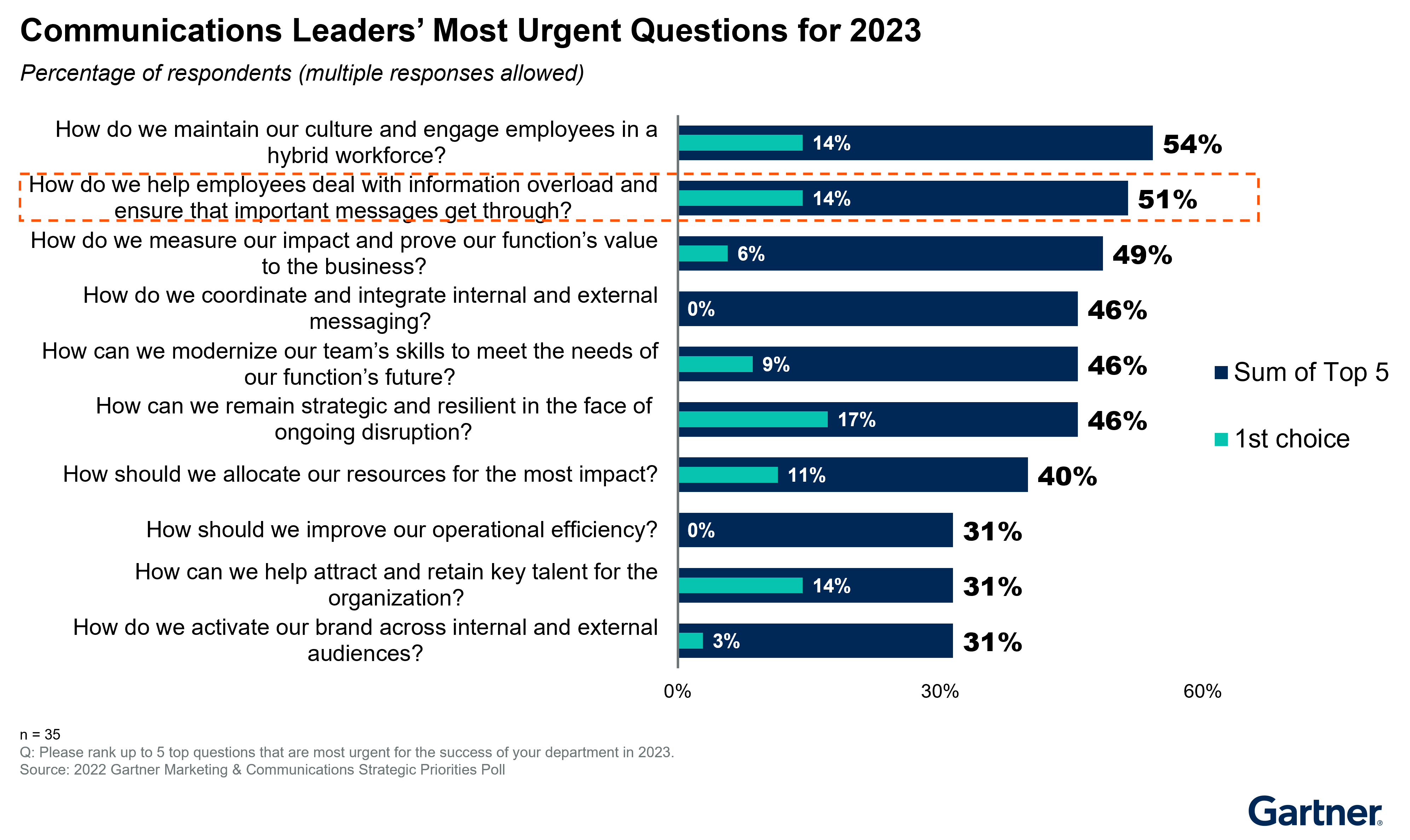 Executives are looking at the organization and sweating the fact that they and the rest of the C-suite know the business needs to adapt for a new economic environment, yet employees are tired from years of emergency pivots and new job requirements.
A not insignificant factor in all of that is the switch to remote/hybrid operations. The increased number of emails, Slack/Teams messages, and project coordination meetings required of virtual work are overwhelming workers. Which is why half of communications leaders now view information overload as a barrier to effectively communicating with employees.
Finance and procurement leaders know this all too well. In our own research, Zip has found that by far the most common methods for managing purchase requests are phone calls/texts, manually submitting Excel forms, and email: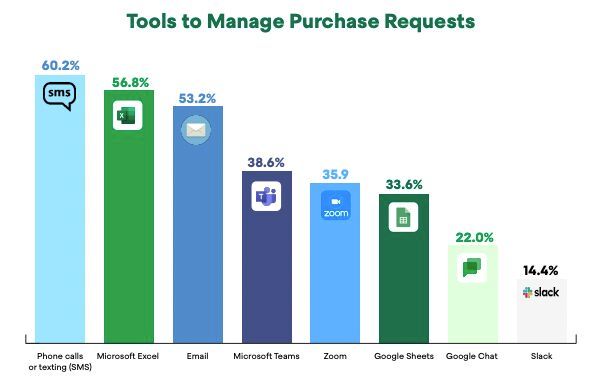 What's more, the typical employee needs to send anywhere between 20–50 emails in order to compliantly complete a purchase request.
So CFOs and CPOs, empathize with your stakeholders a bit here: they're already overwhelmed from trying to stay on top of departmental emails and meetings, on top of external communications, on top of relevant news and data, on top of digital communications with friends and family, all of the same laptop or phone. In this environment, when they encounter barriers to making a purchase, the stakeholder reaches for the easiest tools to make the chaos go away — expense it, send an invoice after the fact, whatever it takes.
One of the biggest ways you can help your CEO this year is to make such experiences faster and less painful. Improving employee experience is a top priority for every executive this year, and if your plans don't include a concrete way to address this — streamlining your intake process, automating invoice processing or whatever — you need to add it to your agenda.
Otherwise, CEOs will struggle capturing the other big whale for 2023: growth.
Grow or Die
2023 was supposed to be the year of recession. Then economists changed their tune. At the end of January, the International Monetary Fund actually revised its previously dour forecast, saying a global recession "would probably be avoided."
For CEOs, this back and forth has mostly been noise. Sure, they want to be prepared for a downturn. But what they really want is to be able to seize growth opportunities and build new businesses even in a high-VUCA environment.
It comes down to this: the pandemic and following period of inflation have changed consumer behaviors and unevenly created pockets of opportunity in specific geographic markets and market segments while creating headwinds in others. CEOs are now looking to digital transformation and creation of new products or services in growing markets to drive future growth.
To put it bluntly, CEOs are responding to 2023 recession risks by going on offense, not defense. Finance and procurement leaders need to execute their own 2023 priorities accordingly.
This comes down to a single word: cash. Growth takes money, so whatever CFOs and CPOs can do to free some up and reduce the pressure that inflation is putting on margins is the way to do it.
For finance, the key levers to evaluate are days sales outstanding (DSO) and days payable outstanding (DPO).
The rising number of CFOs implementing or intending to implement tools to support real-time cash forecasting and cash flow analytics dashboards so they can optimize these metrics is a leading indicator on this trend.
Businesses are also turning to increased use of virtual cards for low-value, one-off purchases, since they are an easily adoptable tool for stakeholders that naturally extend DPO.
For procurement, pulling cash out of the corporate cushions is where teams shine. But in the context of inflation, the job is trickier, as some categories are actively resisting the need for savings. Two bright spots are SaaS tool portfolios and travel programs.
SaaS spend is a top place to produce savings this year because software portfolios exploded during the pandemic, thanks to the urgent need to facilitate remote operations. The boom in the tech space also led to engineering/R&D teams buying whatever supporting tools they needed to keep up with new demand. In both cases, there are natural redundancies that have cropped up, creating easy wins for procurement by consolidating onto a preferred tool or cutting used (or unneeded) licenses.
Travel spend is a more nuanced but equally fruitful target. Corporate travel spend is slowly rebounding from pandemic lows. What's interesting, though, is that the composition of corporate travel spend is changing, with a shift toward group travel (e.g., remote team off-sites, sales kick offs). These are all travel types that tend toward bundling, which naturally falls into procurement's wheelhouse for negotiating volume discounts. Even better, the types of travel that are not returning robustly are individual meetings — sales travel, supplier site visits. The pandemic proved many of these types of meetings can be effectively executed remotely, and since individual flights and expenses are more difficult tail spend to optimize, tightening travel policy to allow these trips only when absolutely necessary becomes a second lever to pull for savings.
So there is cash out there to redirect toward the CEO's vision. But CFOs and CPOs just need to make sure they can see and guide spend effectively.
It's the Profitability, Stupid
Thus we arrive at the crux of what finance and procurement leaders really need to focus on this year: supporting the CEO in 2023 means enabling top line growth without endangering the business by erasing margins or loosing the employees who the lights on. Looking back on 2023 predictions, it wasn't the economy that businesses were most worried about, but about finding sustainable growth — that is, profitability.
The trouble is, the talent factor is extremely limiting, and growth in a volatile economic environment — how about that surprise January 2023 CPI jump? — is easier pitched than done.
Which leads us to the uncomfortable truth: the people enabling this growth need to be digitally augmented to be able to get more done with less, and the gaps that can't be filled need to be automated to the extent possible. Digital isn't some sort of magical panacea that will unlock limitless possibilities; in the context of 2023, it's critical gap filler.
Case in point, Gartner's own CFO outlook for 2023 emphasizes that "[m]any CFOs see the incorporation of digital technology as a key route to improving profitability in volatile times. They are so commonly involved in these areas, not just because they think they are hard to achieve and need close monitoring, but also because their success or failure will be critical to how a business performs in the coming years." CPOs are in the same boat, with their own talent requiring an investment in tools to support these finance-led transformations.
That's a tall order, but we shouldn't let that discourage us. We all need a bit of CEO charisma and optimism to make it through, yes, another challenging year. What's exciting, though, is that CFOs and CPOs are truly at the helm in the effort to find safe economic harbor.
---
Enjoy this newsletter?
Sign up yourself if this was forwarded from a friend or colleague.
Need help with something? Hit reply to send us research questions or to say hello. We love to trade notes!
Interested in hearing more from Zip? Visit our website or sign up for company updates.
Note: By clicking subscribe you confirm that you have read and understood the Zip Privacy Notice that explains how we collect and use your personal information, and includes directions on opting out from our newsletter. If you have any questions, please reach out to privacy@ziphq.com.