How COVID created a K-shaped split in procurement maturity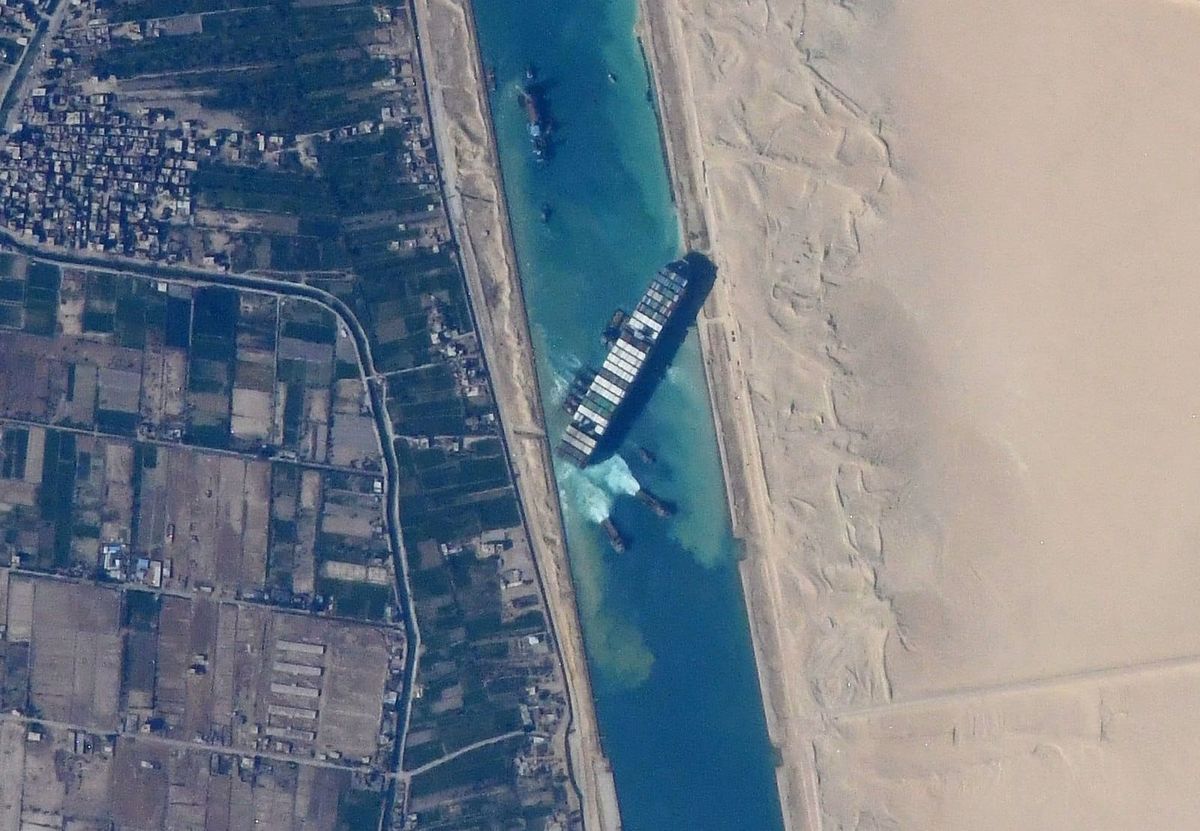 Succeeding in procurement is getting harder. If you were in charge of a finance or procurement group during the height of the pandemic, that might seem obvious. Businesses lurched from one crisis to another — first supply shortages, then geopolitical shocks, then rapid inflation. The list kept getting longer.
But what has surprised even the most experienced leaders is that these mounting challenges didn't recede with the COVID tide. Instead they've stuck around, creating a net-harder job. To invoke a classic meme, organizations looking at the new challenges arising in 2023 are starting to feel like this: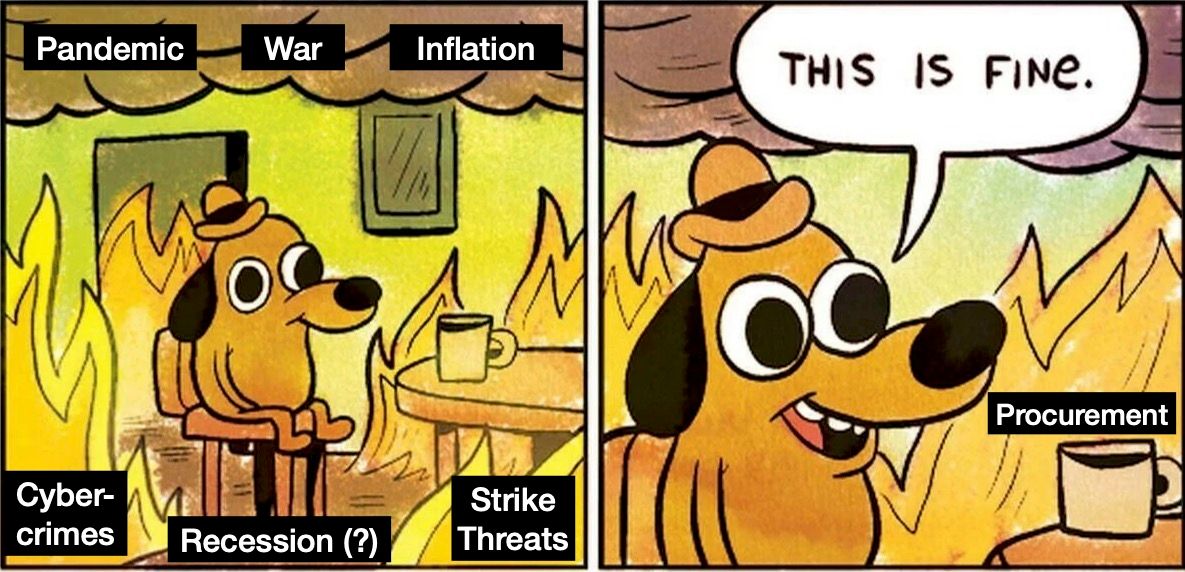 Interestingly, though, a fuller plate is not the defining legacy of the pandemic years. It's actually the ability of finance and procurement groups to respond to these challenges. What COVID taught us more than anything was that few businesses were truly prepared to weather that kind of disruption. And as we limp into the middle of these "turbulent 20s," the real legacy is becoming clear: some businesses are seizing the moment to build for the realities of this decade, but many are also being left behind by the intensifying requirements for survival.
Resilient or Bust
The most impressive redefinition of procurement priorities was how quickly everyone changed their tune on risk. Before 2020, finance and procurement leaders enjoyed somewhat of a golden age of sourcing. Interest rates were (artificially) low, cheap labor for low-cost country sourcing was readily available, and corporate social responsibility programs were "nice to have" initiatives that looked good on investor relations websites.
Today that's all out the window. Nearly ever CEO priority list for 2023 includes improving "resilience" in some way. Which is falling squarely on the shoulders of finance and procurement. Rather than optimize purely for working capital, businesses are balancing Just in Time manufacturing models by padding inventory with a Just in Case approach.
Toyota is one example of a company ahead of the curve. After the Fukushima disaster in 2011, the company built a business continuity plan. It identified the 500 or so parts that were most vulnerable to disruption and worked with suppliers to stockpile 2–6 months of inventory. When the semiconductor shortage of 2021 hit, Toyota did not experience any shutdown or slowdowns. Its competitors did.
Of course, Toyota had the luxury of knowing who those suppliers were, and the the clout needed to convince them to help with the stockpiling. Many other businesses aren't as lucky. But the clear trend is those businesses now know they have a problem. So they're planning to put the work in to fix it.
EY captured this really well in a recent survey. In polls of senior-level supply chain executives conducted in late 2020 and again in 2022, they identified the long-term project of most businesses seeking resiliency is creating better visibility. The COVID years taught finance and procurement leaders that they couldn't really see all of their spend. And they've realized creating visibility is long-term process that, as EY put it, relies a lot on adoption of systems for collaboration and orchestration of spend and suppliers.
The Merge
The other interesting thing about the resilience push is that it isn't purely about risk. It started that way, but the surprise initiative of the pandemic era was the resurgent interest in sustainability and ESG topics. As a researcher, this surprised me because before 2020, businesses used to treat risk and ESG like separate topics. Yet as the pandemic stretched on, the two rapidly merged into a larger super-initiative.
One of the ways I liked to talk about this was by looking at the relative search interest for the terms "risk management" and "ESG" tracked from January 2020 through 2022: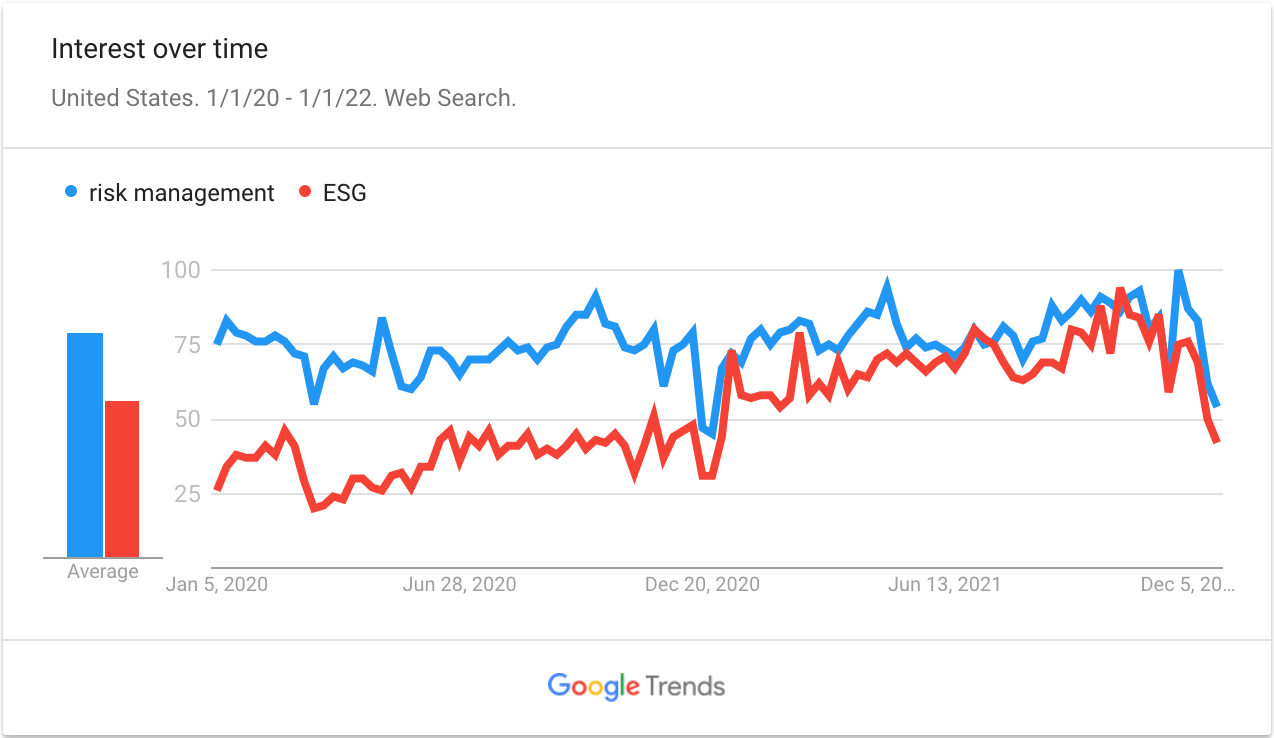 At the start of the pandemic, all anyone wanted to talk about was risk. It was all about sourcing PPE while not getting scammed by fake suppliers. But at the end of 2020, it was like everyone went home and started thinking about the root causes of all of this instability. People came back to work in 2021 concerned about local sourcing and supplier diversity, about how the design of their supply chains correlated with carbon emissions.
What people started to get was that ESG issues are frankly enterprise risks in another form. A resilient supply chain is one that is ecologically sustainable over the long term. Flexible, decentralized supply bases also lend themselves to local sourcing initiatives, which can also be fast routes to addressing supplier diversity goals. And so the two concepts merged into the existential threat they represent for businesses.
These shifts were not just restricted to big-bucket direct spend with respect to countries like China, either. Public procurement groups in EU cities, for example, re-oriented their procedures for sourcing cleaning materials in response to COVID, bringing local suppliers into the conversation to influence how to design a better, more socially conscious tendering process.
That is, if they could keep the people around they needed to do it.
Will Work for Talent
In addition coming home for the holidays in 2020 and deciding to care more about ethical, sustainable supply chains, procurement employees had another thought: "Wow, I think I hate my job."
Talent was the dark horse issue that strained procurement groups even more than supply or costs during the pandemic. The problem was, much like resilience and visibility, really an accumulation of issues over multiple years.
Before 2020, businesses were increasingly skimping on training procurement. Data from the Deloitte Chief Procurement Officer survey showed that training spend as a percentage of procurement budget had actually been declining year-over-year, with with 72% of organizations spending less than 2% of their operating budgets on training and development programs for their teams, compared with 66% the previous year.

When the pandemic hit, procurement groups weren't just caught off guard. They were also poorly resourced. Combined with increased expectations but no new budget due to the uncertainty, businesses had a recipe for a procurement talent crisis.
Gartner Research Director Sam Berndt captured this clearly in a November 2021 study. His 2021 Procurement Talent Survey revealed a sobering state of affairs:
52% of procurement leaders had seen their headcount decrease significantly over the previous 2 years
24% of procurement and supply chain employees were actively seeking new jobs
Only 50% of procurement and supply chain employees under 40 said they intended to stay in their current job
This is the new normal of running a procurement team: straining to get more work done with fewer people, while the people you do have are one foot out the door, angling to get 100% raises in some cases to work for a competitor. As Brendt aptly put it, "If you're struggling with retention in your procurement organization, it's important to keep in mind that your employees aren't disappearing, they're just leaving … for something better."
Which leads us to another logical conclusion. Shrouded in the blue light of their computers all day at home, finance and procurement leaders have had to accept that, if they couldn't keep the people they needed around, they would need to get the work done another way.
Virtual Reality
Back at the beginning of the pandemic, there was a palpable fear among businesses that people would stop buying everything. In the procurement world, that meant automatic freezes on external expenses, which gave their tech vendors a lot of pause.
But a funny thing happened: some sectors froze, while others took off. The most visible manifestation of this trend was the rise (and eventual fall) of made-for-the-home services like Zoom and Peloton. Yet in another corner of the tech economy, less sexy digital initiatives also saw acceleration. As an industry analyst covering contract management tech at the time, I was initially surprised to see deals for CLM systems accelerate instead of pause. Then I remembered that 40% of B2B transactions are still conducted via paper check — a logic that generally applies to contracts, too — and it all made sense.
Likely for the better, the COVID years forced acceleration of digital initiatives for finance and procurement groups. The trouble is that push didn't happen equally across the economy.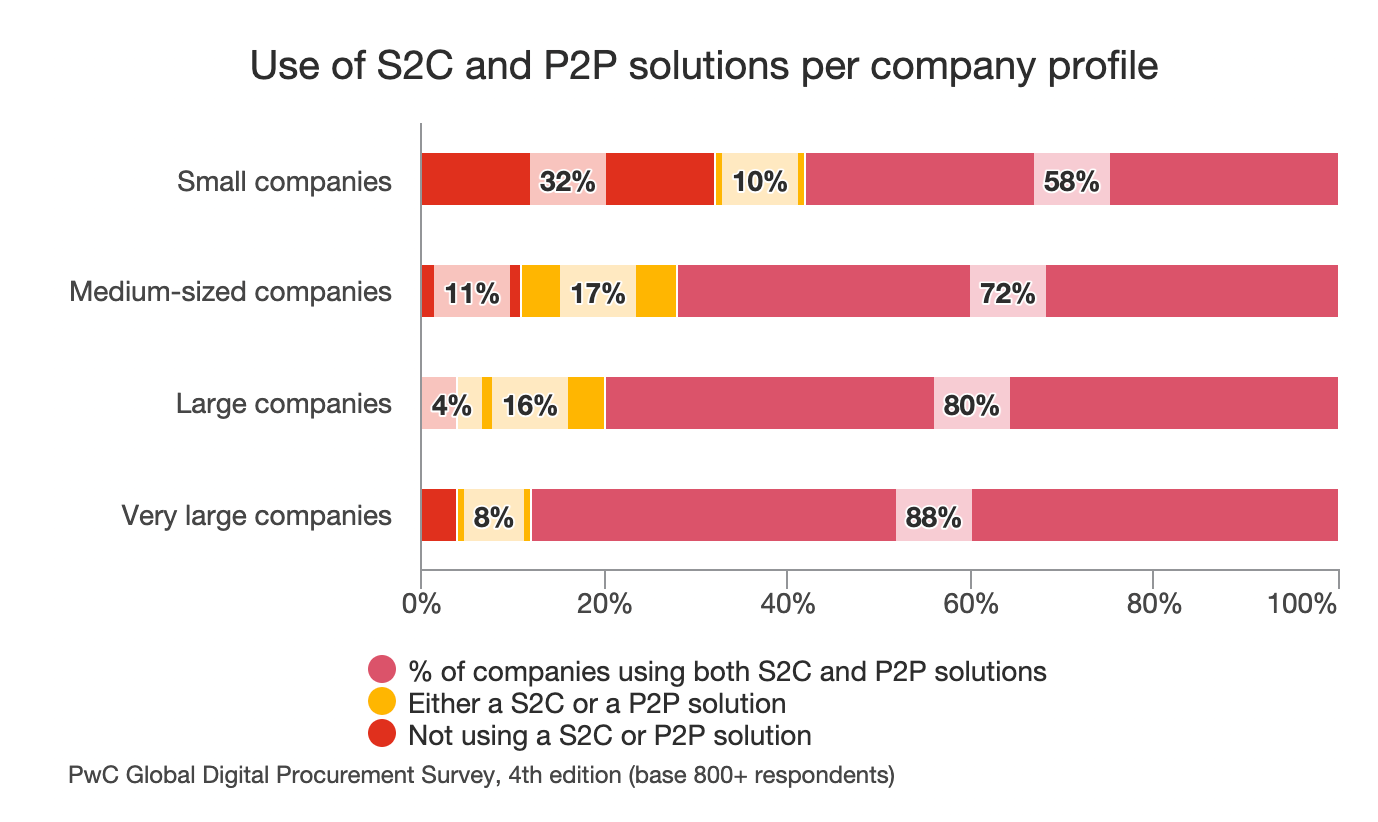 PwC's 2022 Digital Procurement Survey captured this disparity. If you're at a business with more than $1.5 billion in revenue, there's a strong chance you already have full digital coverage across source-to-pay. You probably even have multiple tools for multiple use cases (which creates its own problems for stakeholder adoption and interaction, but I digress). Yet if you're at a smaller company, you still likely have gaps, especially if you're a business with under $50 million in revenue.
Much like the larger economy during COVID, the procurement digitization response has been K-shaped. Except instead of a divide between low-wage and high-paid occupations, in digitization it's small and mid-sized businesses vs. emerging and large enterprises. The elephants in the room that prevent this are money and, as mentioned above, talent. The SMB segment, especially the lower reaches, is largely frozen out of procurement tech by cost and a dearth of people able to implement and scale adoption of these tools.
These businesses still get to use P2P and S2P system — just as supplier profiles on networks on portals. So while the large corporates are pondering the benefits of RPA or autonomous sourcing, the rest of us are left keying in supplier profile data manually or sending emails asking for payment status.
Distributing Modern Procurement
So here we are, in 2023, living out in the finance and procurement world that still accurate William Gibson quote:
"The future is already here, it's just not very evenly distributed."
Unfortunately, a lot of businesses can't wait for that future to just trickle down. They have to acknowledge that this emerging post-COVID world will be very different, and that will require a different set of financial strategies, supply base designs, and yes, supporting tools to handle persistent volatility and complexity.
Rather than get on my soapbox on how to do that, I'll leave you with a great summary from Bill Michels, a procurement veteran and until recently VP of Operations for CIPS Americas, who summed it perfectly:
As COVID taught us, the world is built on supply chains. The visibility it gave finance and procurement teams is a golden opportunity. But there's more work to do. At least it's better than having your face glued to the TV hoping a 224,000 gross ton-ship will finally get unstuck today.
---
Enjoy this newsletter?
Sign up yourself if this was forwarded from a friend or colleague.
Need help with something? Hit reply to send us research questions or to say hello. We love to trade notes!
Interested in hearing more from Zip? Visit our website or sign up for company updates.