How to enable autonomous procurement: 3 examples from retail self-service
Automating the purchasing process can take many forms. In the retail world, companies have made big strides recently in removing friction from self-service ordering and checkout. See how three brands are already enabling autonomous procurement — for consumers.
Autonomous procurement already exists — just not inside businesses.
Yes, there is a world where everyday people can search, select, order, and pay for goods with no or minimal help from dedicated personnel. It's called retail, and the technological accelerator that was the pandemic has pushed automation of self-service consumer shopping experiences to the top of retail executives' priority lists.
But with persistent talent challenges and budget scrutiny constricting finance and procurement teams, CFOs and CPOs need to take a page from retail leaders' playbooks. Enabling self-service across not just buying but any procurement workflow is key to realizing efficiency gains while delivering the transparency needed to coax improved stakeholder alignment.
So, how do you create a self-service experience that works — without the (internal) customer satisfaction and inherent fraud risks — in B2B? Let's examine how three different retailers approach the problem to see what we can borrow.
Uniqlo: seamless self-service checkout
Self-checkout stations in retail are nothing new. Self-checkout stations in retail that aren't terrible, however, are a relatively recent phenomenon.
Anyone who has struggled through the process of scanning their own barcodes knows this. The problem, in my view, is that this approach pushes too much labor onto the consumer, enough so that it can feel like the retailer is burdening them with work it should cover.
To fix this, self-checkout processes need to be truly seamless, to the point that they require so little work that the consumer hardly notices. This is exactly what Uniqlo is doing with its RFID-enabled checkout system.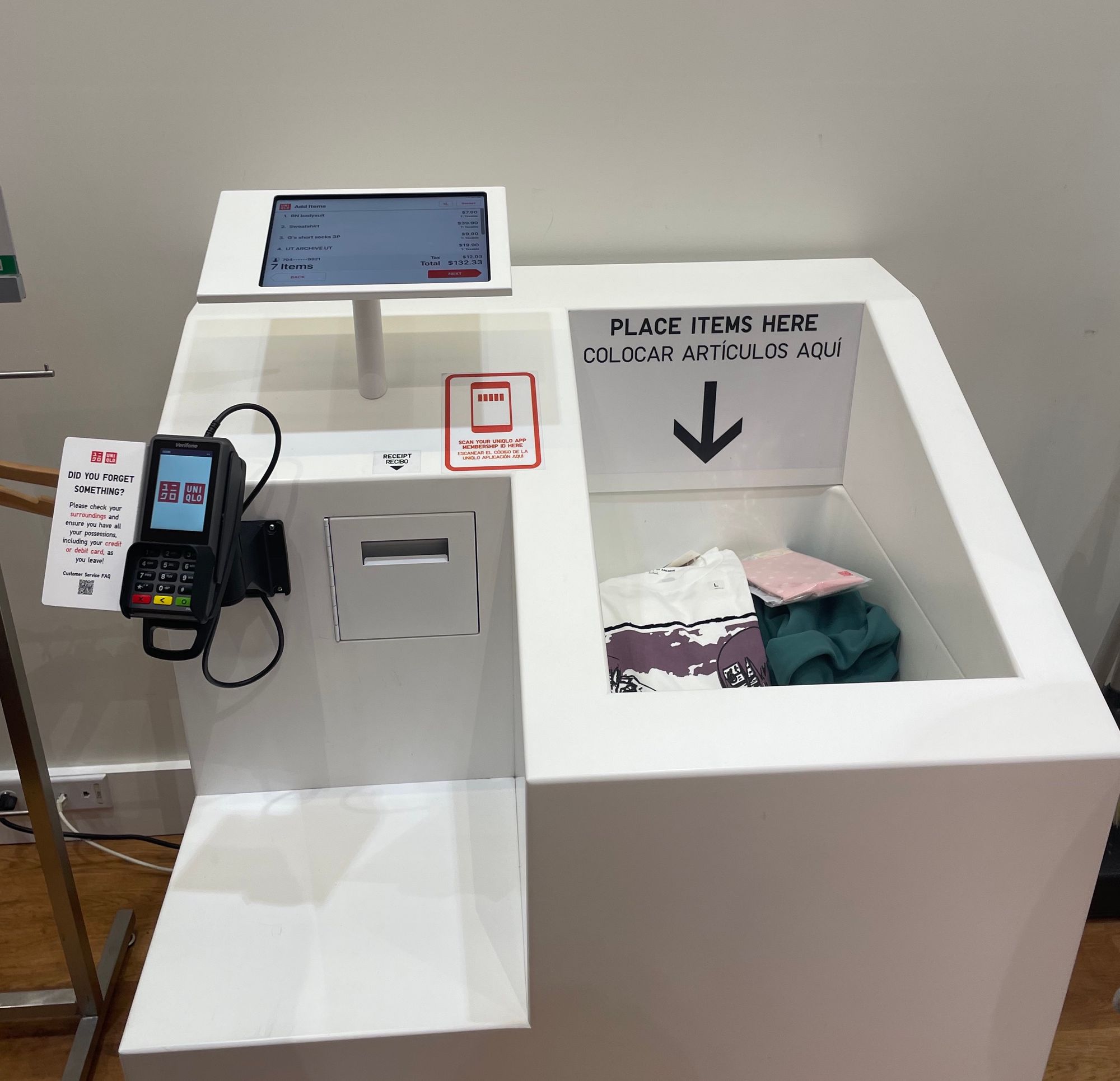 The process is impressively simple: shoppers check out by placing all of their clothes in bins at the checkout station. RFID readers inside the machine automatically read hidden chips embedded in the price tags. The workflow asks shoppers to verify the number and pricing of items before bagging, paying, and leaving.
The experience really is that frictionless: Uniqlo told the Wall Street Journal that since it rolled out the machines, customers have reduced their wait time at checkout by 50%.
RFID is, of course, not a new technology. It's been around since the 1980s. What has changed is the cost and the effectiveness of the technology. As Praveen Adhi, a senior partner at McKinsey & Co., noted in the same WSJ piece, the cost of RFID tags has fallen from as high as 60 cents a tag a few decades ago to about 4 cents a tag, and reader hardware has improved in range and accuracy.
Improved RFID works here because the products are highly standardized and thus easy to catalog. Every piece of clothing has a tag, which Uniqlo can link to inventory and supply chain data. The B2B analogy is obvious: without clean item and service data in your catalogs or supplier records, you can't produce the automated shopping experience that makes self-service shopping work.
Nor can you obtain the deeper benefit Uniqlo is pursuing here. Putting RFID tags in clothing allows Uniqlo to track items from factories to warehouses and stores. This level of end-to-end visibility helps the retailer improve inventory accuracy in its stores, as well as inform production needs based on demand. As the company's CIO Takahiro Tambara put it to the WSJ, "We did not introduce RFID because we want to automate the checkout process; we wanted to develop a platform so that it can be utilized across the supply chain."
How to apply this to your procurement process:
For e-procurement, aim to create a shopping and ordering experience so seamless that stakeholders can adopt it with minimal effort.
To make that experience possible, start with scrutinizing the quality and scope of your item, service, and supplier data, removing duplicates and standardizing metadata to make browsing catalogs and vendors intuitive.
Work toward continuous improvement: collect, analyze, and apply usage data from your self-service e-procurement experience to understand stakeholder demand, which you can then segment to prioritize sourcing exercises or unneeded options.
Amazon Go: removing the possibility of friction
Speaking of seamless, how far can you push the limits of a truly frictionless shopping experience? While Amazon's e-commerce experience has deteriorated into junk in recent years, the experience it has created at its brick-and-mortar Amazon Go stores is the opposite.
If you've never been in an Amazon Go, it's similar to the seamless checkout of Uniqlo above, but augmented by even more technology and user personalization. Grocery is an even more nuanced area to enable self-service — one that comes with its own risks, too — and thus requires additional technological foundations.
To enter an Amazon Go, you pass through a subway-style turn stall. Except instead of tapping a transit card, you scan your Amazon app. Once inside, shoppers can select food items as one normally would in a grocery store, only here the store analyzes your every movement with hundreds of hidden cameras, sensors, and weighted shelves and carts, all of which add every item you select (or remove) to the Amazon Go app's virtual cart. To finish, you just walk out — no cash registers, no lines. Amazon bills you via your Prime account.
It's a futuristic experience, but an educational one too. Obviously this isn't a full-service grocery store; most of the merchandise is tailored to the shopping experience, so things like pre-made meals and pre-packaged goods like drinks dominate the inventory. It's a convenient lunch spot.
In the B2B world, it's worth asking what parts of your spend, namely tail spend, can be automated so stakeholders can "just walk out" with purchases. For the right kinds of low-value purchases below a given threshold, adoption of v-cards can enable easy tracking and coding of purchases while creating a hands-off experience for finance and procurement personnel, as one example.
The lesson applies for document management, too. What manual processes can be removed completely with automation? For relatively simple purchases or cases where checking delivery quality and amount does not apply, for instance, consider using an automated PO flip instead of receiving and matching an invoice.
And by the way, governance still applies even at Amazon Go: you can buy alcohol there. A human still stands in that section to check IDs. The same requirement applies to your workflows — whether automated checks for factors like OFAC or IT risk reviews for acquiring new software.
How to apply this to your procurement process:
Prioritize your self-service experiences by segmenting your spend strategically and determining what technologies you can apply to eliminate friction with employees
Ruthlessly scrutinize your current process and workflows for steps that can be consolidated or removed — especially traditional steps that may not apply for modern purchase categories
Don't overdo it on automation at the expense of risk. Give cross-functional approvers the visibility and time they need in the workflow to prevent fraud and business risk, ideally making their checks as frictionless as possible, too
Jet's Pizza: text to order that's too easy
Self-service chat interfaces have long left something to be desired. More often than not, consumer inputs were met with puzzled reactions from the bot, which seemed more interested in pushing a highly scripted response than actually helping you.
As natural language processing technology has improved, however, the ability of machines to parse semantic intent and match that to available offerings has leapt forward. In my case with my go-to order-in pizza chain (Jet's), some would say they've gone too far.
It is now far too easy for me to order pizza. All I have to do is send a text stating what I want, and the message doesn't even have to be in a structured format. You can send the kind of semi-coherent message expected from a parent trying to wrestle a toddler with one arm, and the system will parse the text, send back a confirmation message, and then, if you've checked out with them before, apply your stored credit card info based on your phone number. It's better than three-bids-and-a-buy; it's two-clicks-and-a-pizza.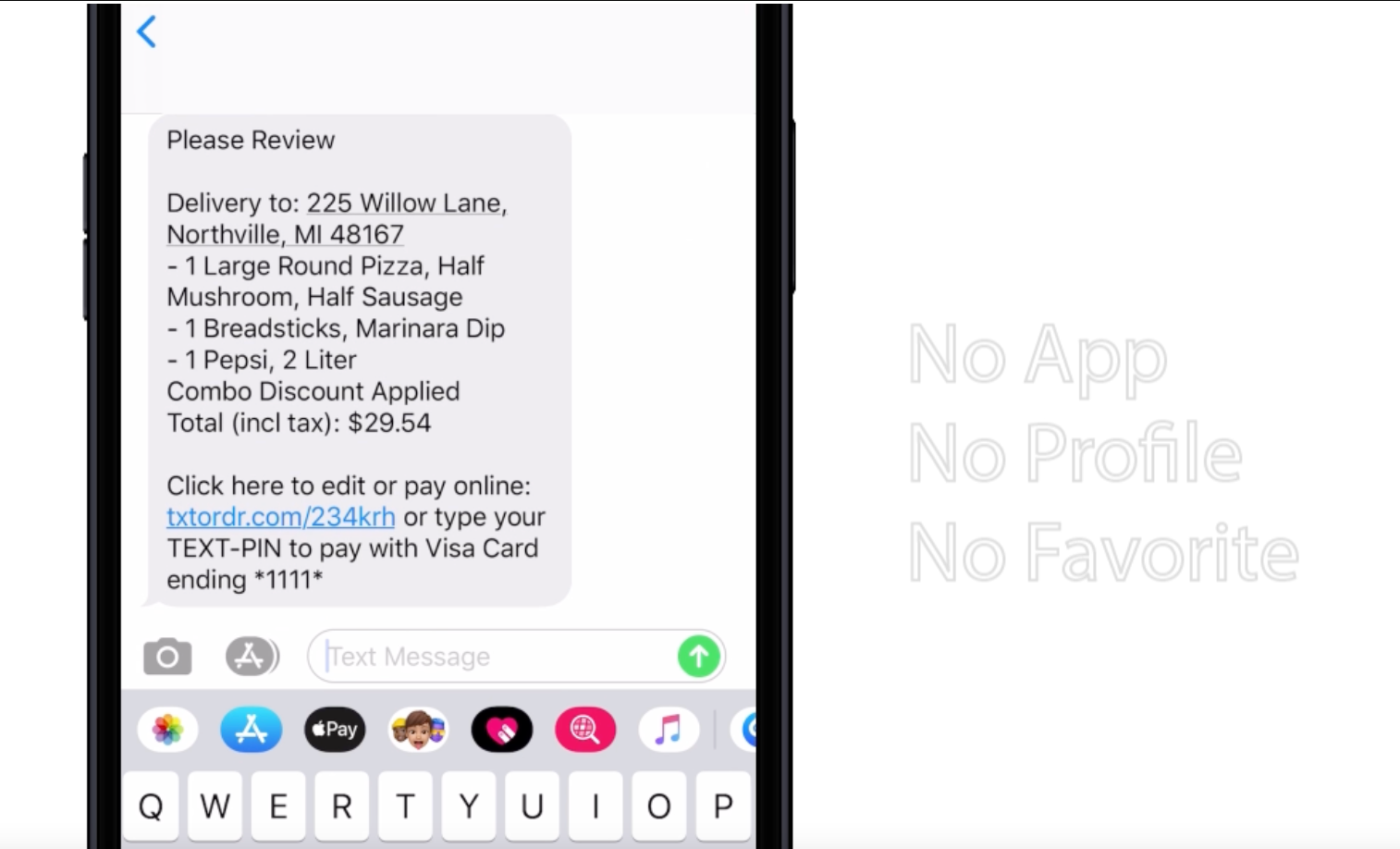 The risks to my arteries aside, there are some interesting lessons here. The big selling point is more than just the NLP aspect. It's the fact that there's no app and no sign-in required. These are elements of an interface or platform that often get ignored in B2B. There's so much emphasis on the compliance point that the ease of access/entry gets lost.
As an example, one of the most common demo test cases for an e-procurement solution is the classic "buy a laptop" test. Yet as one astute buyer of technology recently pointed out to me, this use case, which always starts with a pretty dashboard, fails a critical test: How is the user supposed to know how to get to this starting point?
Most technology providers will simply snap back that it should be obvious. But in a world where text messages and spreadsheets and email are the norm, accessing and navigating an e-procurement platform may not actually be intuitive. Instead, users need a single front door for all of their requests in a user paradigm they intuitively understand. That also means that approvals and performance evaluation requests should be intuitive to kick off from non-platform access points, whether that be email or collaboration tools like Slack/Teams.
How to apply this to your procurement process:
Empathize with your users and commit to meeting them where they live with the starting point for your procurement workflows
Make following your procurement request workflows intuitive by providing a no-training-required interface that any user can navigate
Apply user data and rules to your advantage. If prior actions can lead to (compliantly) stored data to expedite the renewal process, collect and use it in the workflow
Self-service is about segmenting your priorities
The idea of self-service buying support for employees is not new. Enterprise SaaS vendors have been pushing this concept for decades, and the growth of procure-to-pay into a mature market would not have occurred without the evolution of guided buying.
But just like in the B2B world, the rollout of this self-checkout concept has not come without issues. Self-checkout has historically been known for creating frustration for consumers when done poorly (according to one 2021 survey of 1,000 shoppers, 67% said they'd experienced a failure at a self-checkout lane); retail executives are well aware that building self-checkout comes with risk of product loss (a typical retailer can experience an increase in stock loss of 1 basis point for every one percent of sales that go through fixed SCO machines, according one industry report).
In this context, enabling self-service — in B2C or B2B — is not a panacea but a business decision. It's about evaluating tradeoffs. There are risks you'll have to monitor and absorb, and the experience isn't necessarily perfect. Then again, no form of automation comes without negatives. It's just a question of what negatives we're willing to accept for the potential benefit in other areas.
For finance and procurement leaders, that benefit is prioritization of your increasingly limited time and resources.
Yes, with self-service you are asking employees to take a DIY approach (with appropriate controls) to purchasing. But in enabling the downmarket experience of a Uniqlo or Amazon Go or Jet's, you're prioritizing the time of your high-value team members so they can provide the equivalent of white globe service one would expect at a luxury retailer — that is, a place where you'll never see a self-checkout machine. That way, for requests that require white glove service — negotiating major services contracts, setting category strategies for large capital projects, etc. — you can provide the personalized experience needed to collaboratively find value with stakeholders.
Fortunately for CFOs and CPOs, the B2B versions of self-service are rapidly improving, just like in the B2C world. Sooner than you may think, the experience of buying a laptop at work will feel less like bargain hunting at an outlet mall and more like "just walk out."
---
Enjoy this newsletter?
Sign up yourself if this was forwarded from a friend or colleague.
Need help with something? Hit reply to send us research questions or to say hello. We love to trade notes!
Interested in hearing more from Zip? Visit our website or sign up for company updates.
Note: By clicking subscribe you confirm that you have read and understood the Zip Privacy Notice that explains how we collect and use your personal information, and includes directions on opting out from our newsletter. If you have any questions, please reach out to privacy@ziphq.com.