Intake-to-Procure vs. Intake Management vs. Procurement Orchestration: Making Sense of an Evolving Landscape
The concept of applying workflows to transform an aging finance and procurement operating model is gaining traction — but clarity is needed to fully seize the opportunity.
The world of workflow is creating enormous opportunities for finance and procurement organizations — if they can make sense of the jumble of terms being thrown around to understand everything that's on offer today.
Several recent articles and product announcements have caught my eye for their orientation around a recurring theme: the potential of workflow software to extend, automate, and orchestrate procurement processes. Two interesting recent examples included Pascal Croak's overview of procurement technology for Bain Capital Ventures, as well as a guide on how to leverage workflow tools to "deliver more faster" from Sören Petsch, Head of Procurement at CommerceHub.  
These and other examples are bringing needed visibility to the power of workflows to transform an aging finance and procurement operating model, from a fragmented, transaction-centric approach to a more unified, collaborative experience that empowers distributed employees to buy with efficiency and confidence. But as these concepts have rapidly gained traction, the precise meaning of several terms has become muddled, making it harder to distinguish what exactly everyone offers and how these concepts fit together.
In the interest of creating a clearer path forward, let's take a look at some of the most commonly used terms in the market today and put some guardrails around them.
Intake-to-Procure
What it is: process category
Why it matters: intake-to-procure codifies the information gathering and approval process that occurs before the creation of purchase requisitions (PR) and purchase orders (PO), which previously occurred outside of procure-to-pay (P2P) solutions via manual tools such as email
Definition: intake-to-procure solutions provide a centralized interface for all stakeholders to request, approve, and collaborate on pre-PO procurement processes.
The term intake-to-procure denotes a process category, much like procure-to-pay or source-to-contract. It embodies distinct steps that occur before the P2P process, extending the influence of finance and procurement groups further upstream into the purchasing process. The key here is that intake-to-procure enables teams to capture stakeholder demand at the moment of request inception or requirements definition, rather than at later stages like vendor selection or negotiation, which dilutes procurement's ability to negotiate for increased savings.
Understanding intake-to-procure as a type of software connected to a process category is critical because this frame of reference unlocks the ultimate value of the solution. Before the creation of intake-to-procure, many organizations struggled to unlock the value of their procure-to-pay processes. Barriers to success included poor data management/data foundations, lackluster adoption by non-procurement end users (especially for non-catalog-friendly categories like software and services), and an over-reliance on manual tools (e.g., email, Slack/Teams, text/phone) to facilitate approval collaboration and troubleshooting.
What intake-to-procure helped people realize is that they had a workflow problem in their P2P process. Issues around approved supplier routing, security and legal approvals, and initial vendor onboarding requirements could all be handled before the PO creation process without requiring employees to learn and adopt a P2P system. By providing a central, dynamic, intuitive intake process in front of PO creation, they could break through PO-backed spend plateaus while building more influence with stakeholders (and reduce approval process workloads for cross-functional teams at the same time).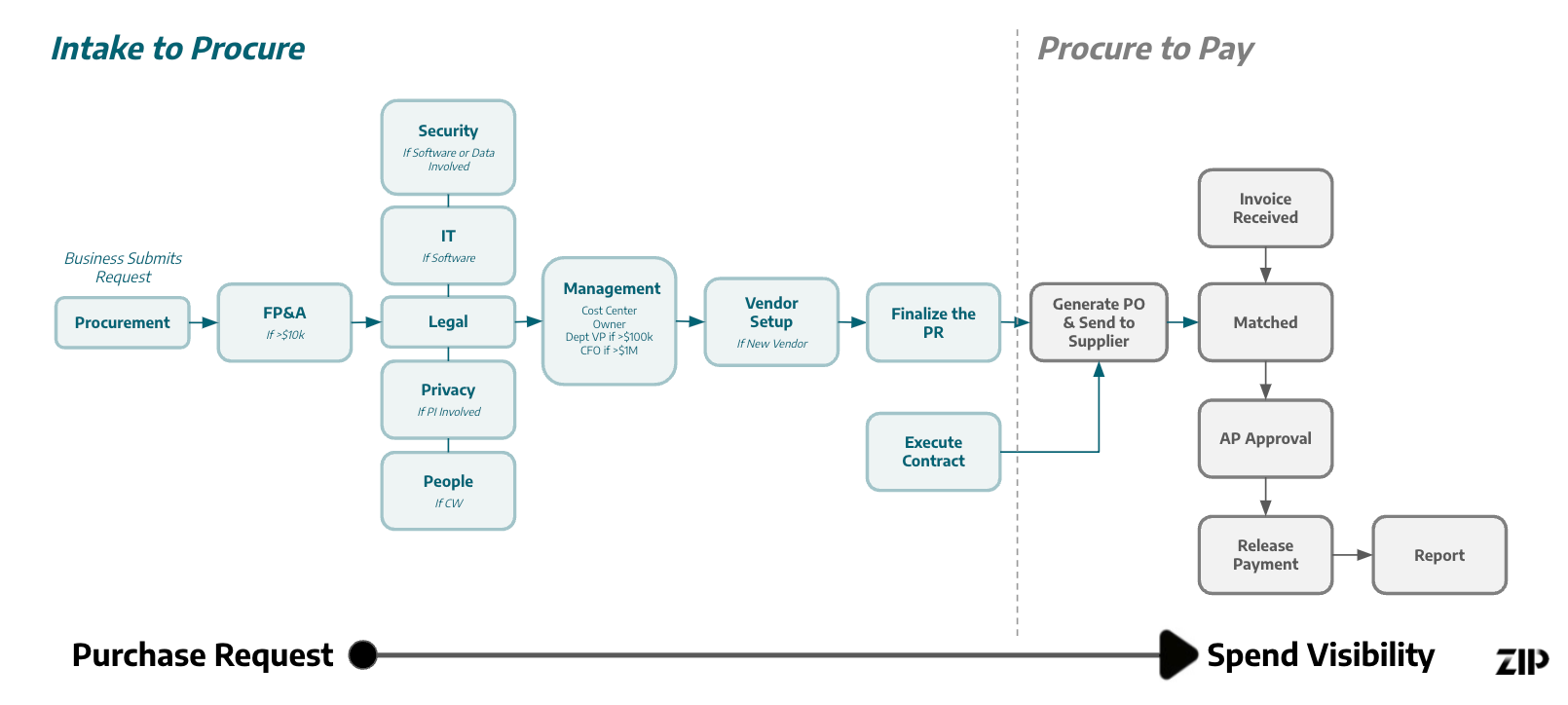 Understanding the place of intake-to-procure requires, however, a correct understanding of context — that is, as the new Step 1 of the modern procure-to-pay process. That means intake-to-procure must be understood as a part of the transaction flow of purchasing, not as simply a requisitioning workflow.
For example, a fully mature intake-to-procure solution should enable not only dynamic fielding of category-based requests or collaboration on threshold-based approvals (e.g., FP&A approval if under a certain dollar amount), but also the collection of transaction information such as line item requirements for potential POs, payment method collection, and for qualifying tail spend categories, the ability to automatically route that purchase to payment methods such as a virtual card.
Think about it like this: because intake-to-procure is becoming the new front end to the procure-to-pay process, it necessarily must include elements of the transaction flow where logical, to provide both upstream collaboration benefits and downstream process automation improvements. V-cards are a great example, as purchases that don't need to go through a PO process (because they cost more for finance/procurement personnel to process than to simply enable) should be dispatched at the point of intake request — offering maximum productivity benefits for all stakeholders.
Arguably, if a workflow tool doesn't offer transaction-level data collection, collaboration, and automation integrated into the P2P process, it is not an intake-to-procure solution.
Intake Management
What it is: market category
Why it matters: intake management is a rising category acknowledged by Gartner's sourcing and procurement analysts as a breakout market all organizations should examine
Definition: "Intake management solutions provide a single contact point for the rest of the organization to request procurement support. Requests will be routed to either the correct endpoint application or person to be fulfilled. Intake solutions also have the ability to track request status, so that requesters and procurement knows the standing and disposition of any request" (Gartner 2022).
The term intake management — which, to be clear, more precisely refers to procurement intake management — is how Gartner defines the market of solutions that digitize and automate procurement request workflows. As the above definition makes clear, the emphasis with these vendors is on creating a universal intake point for procurement requests, streamlining cross-functional approval workflows, and creating process visibility for stakeholders to encourage collaboration.
The positioning of intake management as an emerging market also allows it be viewed as a module or capability — which, in turn, invites multiple kinds of vendors beyond specialists to potentially participate in the market. Intake management may be initially viewed as an emerging market category, but one that, over time, multiple vendors can contribute to. The premise here is that intake is one of many workflows that can be enabled by a finance/procurement vendor, and thus current workflows and forms can be extended to support a more robust purchase request and supplier onboarding experience.
This is a subtly different definitional approach from intake-to-procure above, as it bounds the definition by the qualities and capabilities of the solution rather than its place in the process. There is overlap, of course, but note that intake management is positioned as broader, and could theoretically include a generic workflow vendor, even one from another market (e.g., pure-play no-code platforms).
But going down this path too far can lead companies in the wrong direction. Procurement intake management is distinct from other intake processes, and to conflate funciton-specific intake processes as all "just workflow" can lead down a dangerous path. Intake processes are unique to each function based on the data, people and processes inherent in them — specific supplier data requirements, regulations (e.g., personal data), and risk checks come to mind for procurement — and ignoring these details dilutes the potential ROI from tackling this process improvement opportunity.
Procurement Orchestration
What it is: framework or architecture
Why it matters: procurement orchestration is a future-oriented concept for how finance and procurement teams can effectively manage collaboration on procurement processes across an increasingly fragmented tech stack
Definition: Procurement orchestration enables companies to centrally coordinating all of the workflows, information, and people involved in the procurement process across all related IT assets.
The term procurement orchestration aims to define a broader concept than just a process or a type of technology. In my view, procurement orchestration is best understood as a framework for how finance and procurement leaders can best approach the coordination of the enterprise purchasing process. It involves not just transactions but also supplier management and other overlapping processes (e.g., contract management, which may span a standalone contract lifecycle management system).
Said another way, procurement orchestration is a concept that is best captured by an architecture diagram; it is as much a philosophy as it is a description of technology.
As for where that concept fits on an architecture diagram, the way I, and other current analysts, have increasingly referred to procurement orchestration is as a new layer in the technology stack. While systems like ERP and other systems of record constitute the key foundational layer that stores and provisions most essential master data, another layer of process or transaction sits on top. This, as we all know by now, is how the P2P and later source-to-pay (S2P) markets came to be — as more accessible, digital layers on top of systems of record. And over the past 20–30 years, this second layer has done an immense amount of good, I should note.
But as covered in our recent edition on procurement tech stack fragmentation, this process or transaction layer is increasingly becoming a multi-vendor hodgepodge of subprocess apps and suite solutions, by design and recommendation. Stakeholders have suffered as a result, due to their struggle to understand which systems to use for what requests and their inability to gain real-time visibility into the processes that require their participation for maximum value. What's more, non-procurement stakeholders are exhausted by change management exercises and continuous policy updates, creating a governance gap that the transaction layer is not well-positioned to solve.
To address this gap, forward-thinking organizations are adopting a new, third layer that enables complete digitization of policy (and governance of that policy), which in turn facilitates ease of collaboration between any stakeholder and the business.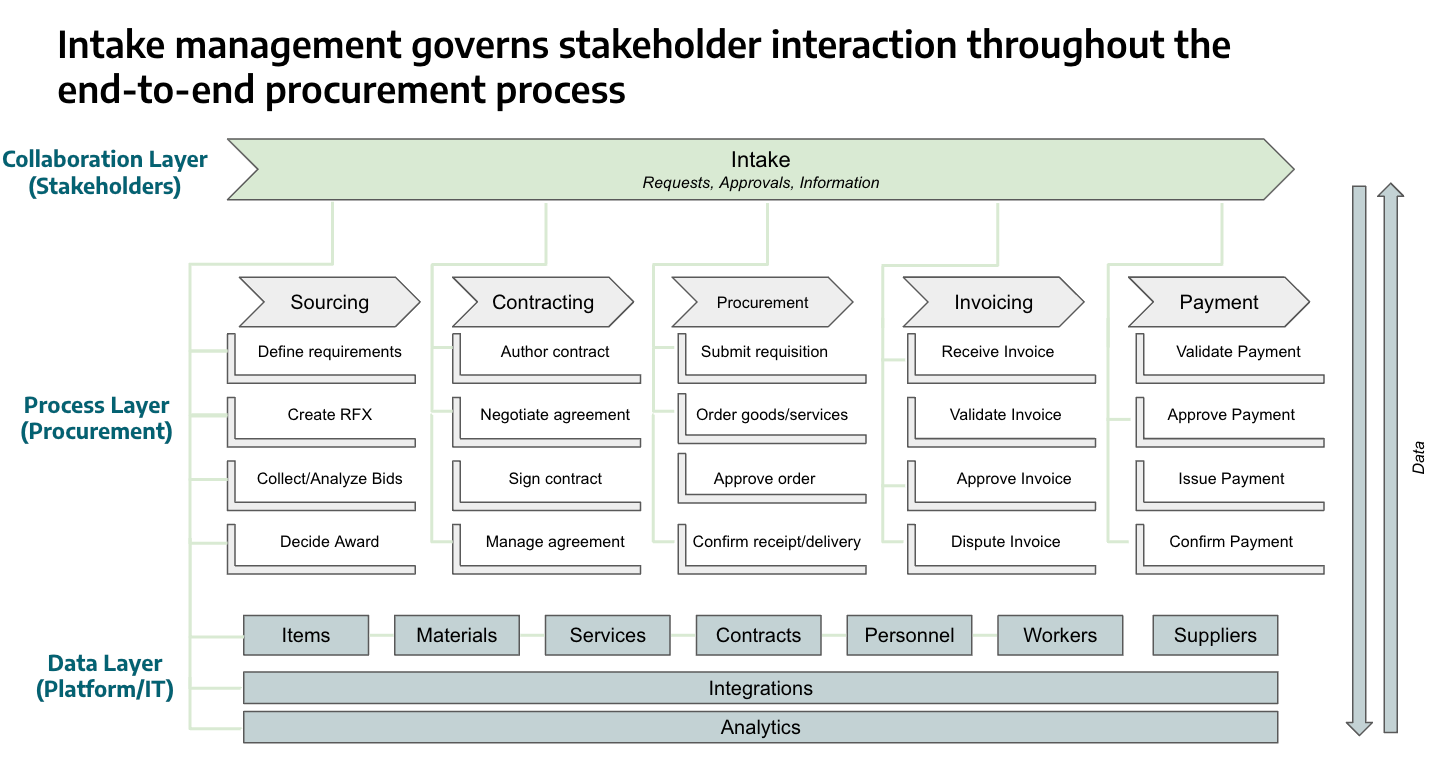 Taken to its logical conclusion, one could argue that intake-to-procure or intake management are destined to become procurement orchestration.
In the first case, intake-to-procure can naturally extend its process boundaries to become intake-to-pay — as in, adding intake in front of the sourcing process in the S2P cycle — or even intake-to-X, where X can be any process that intake leads into.
In the case of intake management, this market category would evolve into a broader layer when it becomes about not just process adoption but also process optimization. The concept here would be that as all data and workflows flow through a central orchestrating system, that system then has the ability to run advanced analytics on everything passing through it and provide continuous recommendations on process improvements, cross-customer efficiency recommendations, and network benefits once the user base reaches a sufficient size.
In sum, the goal of procurement orchestration is not just about orchestrating workflows; rather, it's about orchestrating data and collaboration (both internal and external), allowing you analyze and optimize all of these interactions continuously.
Beyond Workflow
If you've made it this far, thank you for indulging this nerdy examination of process and market definitions. It may seem tedious, but I do have a point: if you limit the concept of intake to simply "adding more workflows" to your processes, you're missing the larger prize.
Intake-to-procure and intake management each parse the problem in different ways, but what they both get after is the historical process adoption barriers and collaboration hurdles stakeholders encounter when interacting with finance and procurement personnel. While policy and process have long been in place to orchestrate external spend flows, the actual enablement of policy and process with stakeholders has long fallen short.
Intake is much more about bridging this policy-process gap than it is about offering a simple workflow starting point. In fact, one could argue that intake is truly a "missing link" — whether you call it a layer of collaboration or experience or governance or innovation — that unifies, digitizes, and automates the realization of procurement policy into granular process steps. And when that bridge is built, it allows organizations to leave the plateau of partial system adoption and climb toward long-term, continuous optimization of every dollar that flows through your company.
---
Enjoy this newsletter?
Sign up yourself if this was forwarded from a friend or colleague.
Need help with something? Hit reply to send us research questions or to say hello. We love to trade notes!
Interested in hearing more from Zip? Visit our website or sign up for company updates.
Note: By clicking subscribe you confirm that you have read and understood the Zip Privacy Notice that explains how we collect and use your personal information, and includes directions on opting out from our newsletter. If you have any questions, please reach out to privacy@ziphq.com.