Velocity is the Key to Procurement's Survival
If finance and procurement leaders want to orchestrate success, they need to look at velocity as the most meaningful improvement they can make in their organizations. Their survival may depend on it.
The building wave of automation is an existential threat to procurement.
Across industries, chief procurement officers are reading the writing on the wall. They know that company leadership needs them to deliver even more than they already are, despite three years of exceeding expectations through the pandemic. They know that they are unlikely to receive additional resources to help with this, as every department fights for what little budget they can get. And they know that artificial intelligence, while imperfect, is about to break into processes once thought to be immune to automation due to their reliance on human communication.
In this context, typical performance metrics on savings are critical, but they are not enough to guarantee procurement's survival in the enterprise. Instead, CPOs are turning their focus to the pain point their internal customers need the most help on: velocity.
Velocity Fuels Growth
Companies live and die by their ability to sustain growth.
In startups, this is a fact of life. You either hit product-market fit and find a path to paying back your venture investment, or you flame out.
But larger companies are just as vulnerable.
For years now, corporate longevity has been declining. According to one study from Innosight, companies joined and stayed in the S&P 500 during the 1970s for an average of 30 to 35 years. In the 2020s, that average has dropped to 15 to 20 years.
The post-COVID economic environment will only exacerbate this trend. Technology is fusing with every industry, creating a digital arms race that many businesses have responded to by frantically attempting to pivot to wherever they think the next growth area will be. That means not only new digital experiences and applications, but also new-to-them markets where populations and consumer demand might appear resilient in the face of a global recession.
That frenetic pace is driving a need for speed in every business function. Product managers and engineers and researchers are all sprinting to create the next big thing before their competitors can come up with it first. Sales and marketing teams are rapidly retraining or re-educating themselves on new trends and technologies that will open new business opportunities.
At the nexus of all of that is finance and procurement. Because in order to capture those few fleeting opportunities at the speed required, companies need cash and inputs to those new products and businesses to make them a reality.
I heard this echoed by a sizable group of procurement leaders earlier this week at the Sourcing Industry Group (SIG) Midwestern Regional conference. We were engaged in a lively discussion, led by event co-host Spend Matters, about the value of looking at your procurement process in a customer relationship management (CRM) context — that is, responding to procurement's internal customers as sales organizations do to prospects and customers, moving them through a larger funnel with their pain points and needs in mind. Yet when asked what their internal customers were measuring them on, many of the attendees did not simply respond with year-over-year savings or costs avoided. Instead, those customers want deals done faster, at higher volumes.
With growth pressure mounting, this makes all the sense in the world. Stakeholders need new software to automate and virtualize their processes for a hybrid workforce. They need to rapidly select and onboard contractors and services providers who have the needed skills and expertise in growth areas that exist outside of the company's own tribal knowledge. And they need all of the supporting tools to get their work done available with zero friction so they can get back to the task at hand.
Velocity Unlocks Innovation
Overcoming this friction is not simply a matter of employee experience. Rather, it is directly related to the need for innovation driven by this rush toward growth.
A recent Microsoft study captured this perfectly by evaluating what it calls "digital debt":
We're all carrying digital debt: the inflow of data, emails, meetings, and notifications has outpaced humans' ability to process it all. And the pace of work is only intensifying.

Everything feels important, so we spend our workdays trying to get out of the red. Nearly 2 in 3 people (64%) say they struggle with having the time and energy to do their job—and those people are 3.5x more likely to also struggle with innovation and strategic thinking. And nearly 2 in 3 leaders (60%) are already feeling the effects, saying that a lack of innovation or breakthrough ideas on their teams is a concern. There are only so many minutes in the day—and every minute we spend managing this digital debt is a minute not spent on the creative work that leads to innovation. In a world where creativity is the new productivity, digital debt is more than an inconvenience—it's impacting business.
Where is all of this digital debt accumulating? In communication and coordination across processes, not in the execution and improvement of processes themselves.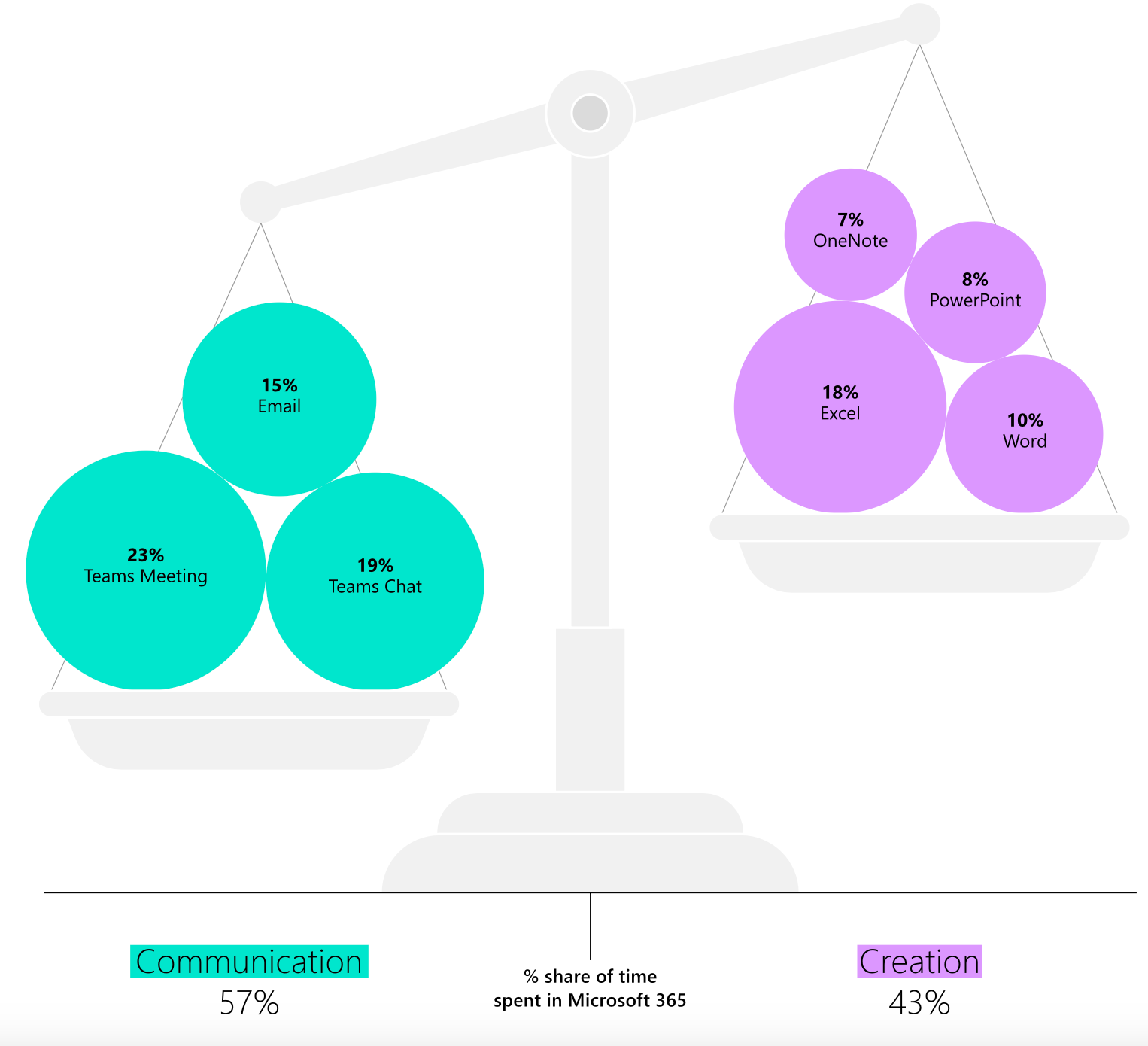 This parallels pain points experienced by stakeholders and procurement teams. One of the most consistent pain points I hear from organizations already using procure-to-pay systems is that they have to use tools outside of the tool to actually get the whole process to work, including the often ignored request process captured by intake-to-procure solutions.
A not insignificant factor in all of this poor experience is the switch to remote and hybrid operations. The increased number of emails, Slack/Teams messages, and project coordination meetings required of virtual work are overwhelming employees. Which is why Microsoft above is calling out information overload as a barrier to effectively getting any creation-focused work done.
In our own research, Zip has found that by far the most common methods for managing purchase requests are still phone calls/texts, manually submitting Excel forms, and email. What's more, the typical employee needs to send anywhere between 20–50 emails in order to compliantly complete a purchase request.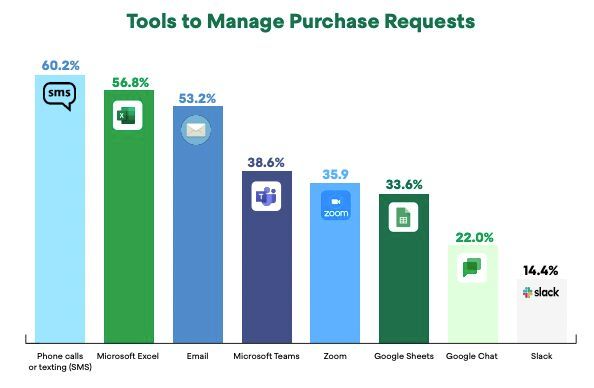 The answer to this barrier to innovation — and thus growth — is to redirect our efforts completely, away from compliance and process rigidity in service of savings toward adoption and flexibility in service of velocity. Every email asking a question about purchasing policy steps is one that could be embedded and automated in a modern intake-to-pay process. Finance and procurement leaders position themselves as advisors to strategic growth if they can unlock more time and cash for their functional partners to fuel innovation, or find the time to be that innovation fuel themselves.
And with the next wave of automation gaining momentum, they will need to do it as soon as possible, before AI does it for them.
Velocity Ensures Survival
These opposing forces of growth and friction have arisen at an fateful time. Executives in search of growth are also eyeing efficiency as a way to redirect the business to new priorities.
Mark Zuckerberg kicked it off early by naming 2023 the "year of efficiency" for his organization, a response to Meta's overinvestment in headcount and VR during the pandemic years. But IBM CEO Arvind Krishna escalated this much further as the generative AI wave gained steam. In his estimation, 7,800 workers at his company whom he classifies as "back office" workers could be replaced by AI and other automation technologies. In response, IBM will suspend or slow hiring in such non-customer-facing functions going forward, according to a Bloomberg report.
While Krishna mentioned HR as one of those functions, IBM's long experience in procurement tech and services surely will give it a perspective on how those professionals can and can't adapt to the wave of automation. And if IBM is thinking along these lines, you know other large and forward-looking companies will be, too.
In these times, the survival of any job that involves back office processes is, in some way, threatened. The survival of people in those roles will be predicated on their ability to drive or actively support growth, and the ability to do either of those things will require speed.
Top CPOs know this. After years of naming savings as their top priority over the next 12 months, this year the narrative has shifted. In 2023, driving operational efficiency is the #1 priority, as Deloitte Principal Rynn Flynn recently revealed:
If tomorrow's finance and procurement leaders want to orchestrate success, they need to look at velocity as the most meaningful improvement they can make in their organizations. Their survival — and the survival of their businesses — may depend on it.  
---
Enjoy this newsletter?
Sign up yourself if this was forwarded from a friend or colleague.
Need help with something? Hit reply to send us research questions or to say hello. We love to trade notes!
Interested in hearing more from Zip? Visit our website or sign up for company updates.
Note: By clicking subscribe you confirm that you have read and understood the Zip Privacy Notice that explains how we collect and use your personal information, and includes directions on opting out from our newsletter. If you have any questions, please reach out to privacy@ziphq.com.